Table EZNEC simulation, gain and F / B in free space
and real space to a wavelength from the ground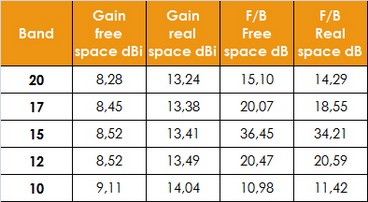 Technical specifications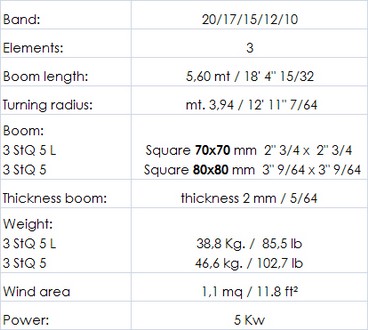 Feed specification*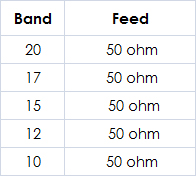 *the power supply can vary according to the type of installation
ptional:
 Kit 4 elements quad for 50Mhz band                                                     
235,00
€
(iva incl.)
On the same boom of this quad, you 

can apply t

he Kit for 3 elements
quad on 50 Mhz band. The electrical features can be found on the
Adding this kit you will have a quad six bands full size 

on the same just
Optional:
" Rods elements Kit " 
210,00
€
(iva incl.)
When ordering the quad or even later
at the installation, it is possible to add the "Rods elements kit"
This option is made up of the following details:
– extension of the boom through a 25 mm diameter VTR tube
– Mastrant 3mm tie rod, which joins the elements together and then connects them
– one loop consisting of Mastrant 3mm, to be applied to all elements.
The installation of this kit avoids the movement of the 

fiberglass 

elements
during strong winds or snow and ice.

 The result is a structure that maintains
a correct level of 
flexibility to dampen the thrust of the wind on the antenna,
but never comes 
to overcome the critical level of mechanical stress.
iWSPR WSPR implements a protocol designed for probing potential propagation paths with low-power transmissions. Normal transmissions carry a sta... Read more
FT-818 This week Tony and Gary revisit Yaesu's FT-818 and discuss if it is still relevant in 2022? Read more
Not all PL259s are the same. The newer designs are a superior design and accurate. Anyway, I nearly cock this up. Perhaps rate me out of 10! Read more
SharkRF Openspot 4 This is my first look at the physical size and menu features of the new Openspot 4 Pro from SharkRF. The openSPOT4 is our latest ba... Read more
sBitx "The first part shows me calling CQ and handling the response. The second part shows how the operator can respond to a someone else'... Read more
QRM Eliminators, do they work? The QRM canceller is inserted into the feeder of the antenna from thetrx without any other modifications to the radio.... Read more
Introducing the brand new ARRL Radio Laboratory, W1HQ! Join Jherica Goodgame, KI5HTA, as she walks you through everything there is to know about this... Read more
What do I carry with me when I hit the road for a Parks on the Air or some other kind of portable radio activity. In this video I break down the conte... Read more
DX Engineering has acquired Hi-Z Antennas' full lineup of HF directive receiving array products for amateur radio operators, ensuring that the company... Read more
RAC reports On July 28, 2022, Innovation Science and Economic Development Canada (ISED) released an update to a very important document for Canadian R... Read more
What do I carry with me when I hit the road for a Parks on the Air or some other kind of portable radio activity. Read more
SARK100 HF Antenna Analyzer "Here we take a look at the SARK100 Antenna Analyzer. Discontinued in KIT Form in 2011 but STILL available to purcha... Read more
ACOM 06AT antenna tuner & switch teaser Are you looking for a desktop antenna tuner and switch for your astonishing ACOM solid-state amplifier? Ex... Read more
"The other day, we developed Pocke TATOR Jr., whose function is limited only to rotation movements, and we also distributed it for the first tim... Read more
VE2DX 2022 saw the return of the Dayton Hamvention and also celebrated the 70th anniversary of the world's largest ham radio trade show. Ham Rad... Read more
sBitx SDR Transceiver is now available for order from hfsignals.com. sBitx SDR Transceiver comes down from the long line of the world's most popular B... Read more
Win4IcomSuite There is a new release of Win4IcomSuite (version 1.422). This release adds support for the Scroll modes for the CI-V based panadapters a... Read more
How to use WSPR. The Weak Signal Propagation Reporter. Great for testing Antenna Patterns & Directionality for RX & TX. Read more
"Hi All, Chris, Kimberly and I are excited to let you know that… Amateur Contact Log 7.0.6 is Now Available! We've upgraded AC Log 7... Read more
Jan van Katwijk has released an FT8 plugin for SDRuno. In this video for Hamguides, Mike demonstrates how to use it Direct GitHub link to Jan's FT8 do... Read more
In this video, I'll work Band-Countries (DXCC Challenge) #2,175 & #2,176! I demonstrate how to configure and use Ham Radio Deluxe HRD Alert... Read more
VarAC What is VarAC? VarAC is a FREE, modern HF P2P real-time chatting application for the amateur radio operator that leverages the gloriou... Read more
Hello Operators. In this episode of the OH8STN ham radio, we are discussing replacing the raspberry pi field computer build, with the Microsoft Surfac... Read more
FT8 is a mode in the WSJT-X software developed by Dr Joe Taylor K1JT. In this video I show how to get started and make contacts with FT8, introduction... Read more
The WSJT-X development team has announced the general availability release of WSJT-X version 2.5.1. This release mainly contains i... Read more
Does WSJT-X display errors when you transmit with your radio? Try this simple fix which has helped me get rid of those frustrating errors. Read more
iWSPR WSPR implements a protocol designed for probing potential propagation paths with low-power transmissions. Normal transmissions carry a sta... Read more
Android SDR App SDR MUST be plugged in before starting SDR++ and you MUST press refresh in the SDR source you're using befor... Read more
This app is a real CW QSO simulator for ham radio operators. Supports "599BK style QSO".In order to reproduce a realistic QSO environment,... Read more
Dayton Hamvention® is offering a free mobile app for smartphones and tablets to help attendees navigate the large-scale event, which runs May 20 – 22... Read more
xCluster is a visual display of dx cluster activity. DX spots are received via telnet or web services and displayed in a tabular form and plotted on a... Read more